Shivansh Technology introduce a Made in India Nylon UV stabilized cable ties in Black colour. Self-locking and non-releasing Cable Tie. Ideal for sealing of Bags, Packaging and bunching cables. Cable Ties provide secure locking which does not slip, come off or slacken. Must be cut to be removed. Can be used in a wide variety of applications such as cable installation, gardening, and decoration etc.
SHIVANSH TECHNOLOGY (ANANTA)
Nylon Heavy Duty Cable Ties with superior tensile strength
Superior Loop Tensile Strength: Minimum 8 kg and Maximum up-to 22 kg,
Tensile strength and thickness are higher than other standard cable ties
UV Resistant
Our black nylon cable ties are made to perform both indoors and outdoors, making them weather-resistant, with capacity to endure Ultra Violet Light for longer time.
UV stabilized cable ties are also available in variable sizes for both indoor and outdoor uses
Extra Strong Locking Mechanism
The top headlock system of our cable ties are designed to bear extreme tensile force against the sturdiest applications with heavy load sustainability.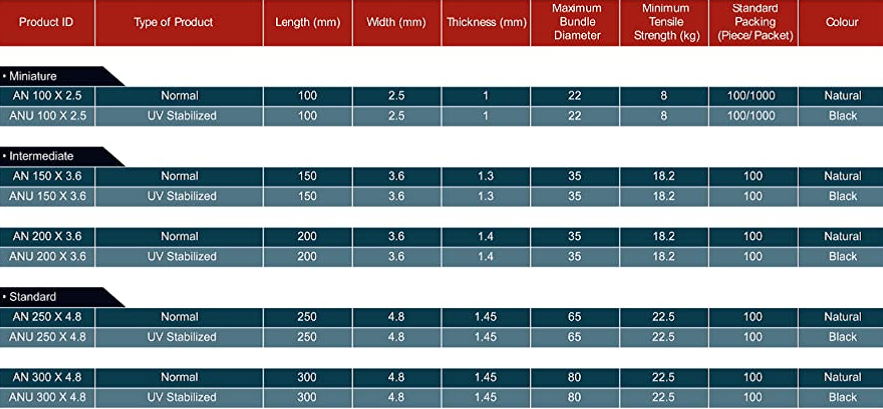 Multiple Sizes for Multiple Uses
Our cable tie set includes more variable sizes to accommodate the spectrum of uses that may present themselves. Featuring balanced quantities of 100, 150, 200, 250, 300 mm ties in black and white nylon, you'll be prepared for any problem or project that comes your way. The cable ties are rated with an 8 kg or 22 kg superior tensile strength, which can be increased by doubling them up. The set comes in a convenient, reusable canister for easy access and storage.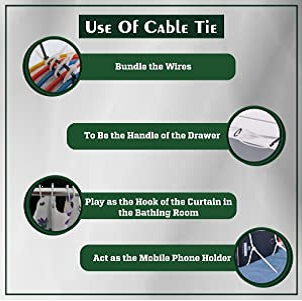 Variable Use of Self-Locking Nylon Cable Ties
A must have for any household or business, the Self-Locking Nylon Cable Ties are one of those essentials you don't know you need, until you do. Great for binding cords, securing loose items, tethering objects, quick-fixes, DIY projects, and any non-electrical usages, these single-use ties will come in handy when you least expect it. Use for everything from hanging outdoor decorations to installing temporary signage to bundling computer cords and so much more. The cable ties are easy to use and provide a strong, secure hold that you can trust.
Create a strong, binding hold that won't slip or unravel over time with the self-locking ties. This durable product feature a simple ratcheting mechanism with locking teeth that stops the tie at the desired fit. Simply thread the rough side of the tail through the rounded connector head, pull to secure, and trim if necessary.
Specification
Superior Loop Tensile Strength
Minimum 8 kg
Superior Loop Tensile Strength
Maximum up to 22 kg
Material
Nylon 66 / Poly-amide cable tie
Smooth cable tie to increase flexibility
Tensile strength and thickness are higher than other standard cable ties
Properties
Nylon 66 / Polyamide cable tie
Smooth cable tie to increase flexibility
Tensile strength and thickness are higher than standard cable ties
Our Specializations
If demanded your choice of colours can be manufactured
Normal cable ties are available for indoor use
UV stabilized cable ties are also available for both indoor and outdoor uses